Evan davies BUILDING / market street activation FREMANTLE
Location: Cnr Market and Collie Street, Fremantle
Type: Ideas Competition
Client: The City of Fremantle
All imagery and related intellectual property are strictly copyright Braham Architects, 2015.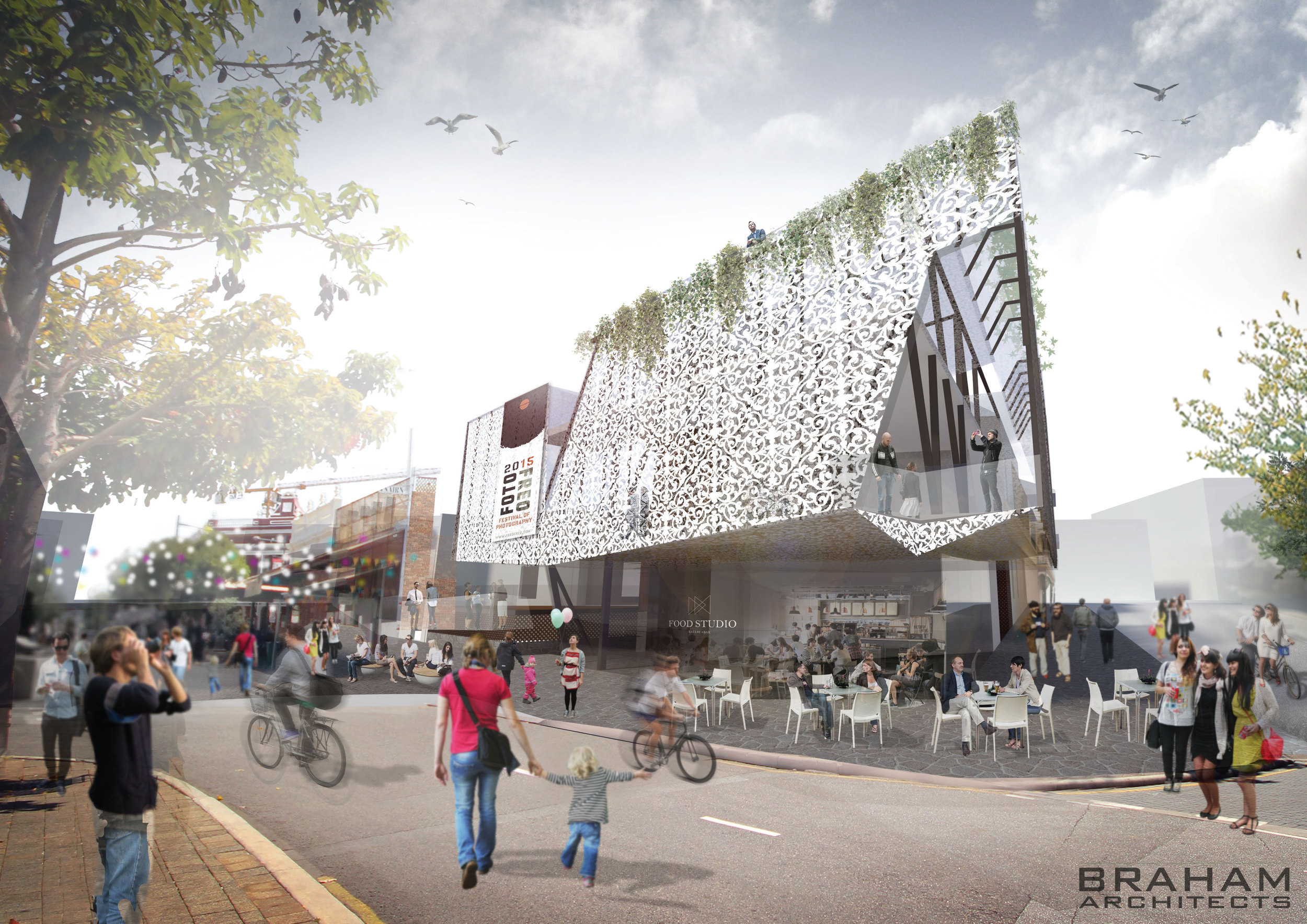 In November 2015, Braham Architects were invited to participate in an ideas competition for the corner site at Market and Collie Streets, Fremantle.
Our overall master-plan was to strengthen the connection between the busy South Terrace cafe strip, and The Esplanade, which is Fremantle City's primary green space. Currently the road is relatively barren and void of the vibrancy for which Fremantle is famous. Our proposal designates the southern edge of Collie street as a tree-lined promenade, linking South Terrace to the park with a suggestive green overhead passage. This offers a more enticing, human scaled journey between South Terrace, Esplanade and the fishing boat harbour, whilst also disguising the adjacent five-story car-park and cinema complex. Through this strategy we intended to support, complement and direct towards The Esplanade space.
Our proposal began by removing the unsuccessful elements of the site and shifting the service access to a new and limited frontage elevation on Collie Street. This
move encourages Market Street to become the primary street of the majority of tenants on the site, improving legibility of the area. The clear strategy of situating the primary access and address for the upstairs venue to Market Street both strengthens the street and the the engagement with existing and proposed venues.

A detailed study of both the historical and existing aspects of the site and wider area revealed a strong precedent in simple balcony structures creating edge conditions. This led us to propose a scheme which acknowledged the important of the Collie/Market St junction by completing the corner at height with a lightweight, transparent steel structure, evoking the cast iron balconies of the past. Whilst creating this edge, we preserve the amenity of the interior space, allowing natural light and ventilation to the site whilst allowing for the possibility of staging and raised infrastructure to support activity in the area.

Finally, In order to support the intensified areas of the site, along with the improved activity on Market Street, we proposed a raised urban "Laneway", creating a dynamic, visible, and versatile first floor space and roof terrace, connecting with the wider Fremantle city-scape.
All imagery and related intellectual property are strictly copyright Braham Architects, 2015.